TECHNICAL NOTES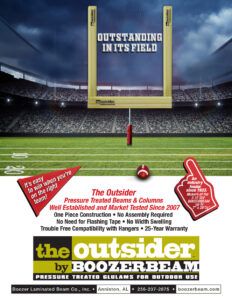 For end cuts on previously pressure treated beams, we recommend Copper Napthenate
AWPA Service Use – treatments & retentions
Copper-Nap

Copper-Nap.04 – UC3A
Copper-Nap.075 -UC4B
*Additional glulam product and design information is available for free downloaded from the APA website at www.apawood.org/glulam
---
FREQUENTLY  ASKED QUESTIONS
What species of lumber do you use to make your beams?
Southern Yellow Pine
When was Boozer Laminated Beam formed?
Boozer Laminated Beam Company began in the 1930's as Boozer Lumber Company. As glulam became the company's predominate product, the name was officially changed in 1967 to the current name.
Do you make arched beams?
No, all of our beams are straight. They do contain camber which is a slight curvature built into the beam to prevent it from sagging under a loaded condition.
Where do you manufacture your beams?
Our facility is located on seventeen acres of land in Anniston, AL.
Do you sell directly to the public?
No, we market and sell BoozerBeams through a national system of distributors and dealers. We feel this is the best way to offer proper service and support to every BoozerBeam user.
What is a BoozerBeam used for?
A BoozerBeam is mainly used for structural support in floor and roof systems, above windows and doors, and above garage doors. You can use a BoozerBeam in an area where no support is needed, but the beauty of an exposed beam is desired.
Do all of your beams have the same appearance?
No, we make our beams in four appearance grades- Framing, Industrial, Architectural, and Premium.
What size is the biggest beam you can make?
8 ¾ x 28 7/8 x 56
Can you help me size a glulam for a specific job?
Yes, absolutely! Please feel free to call, email or fax us and we'll help determine the right size BoozerBeam for your application.
What areas of the country to you service?
Currently, we're a serving the Central, Northeastern, and Southeastern portion of the United States. However, we are always striving to build new relationships and expand our market area.
Where do you get your lumber?
Our lumber is sourced from the finest mills across the Southeast.
How should BoozerBeams be stored on a yard or jobsite?
Beams should be kept off of the ground using lumber blocking, skids or rack system. The wrapping should be left in place to protect them from moisture, soiling, sunlight, and scratches. If possible, store glulam under cover to protect the beams. For long-term storage: cut slits in the bottom of the wrapping to allow ventilation and drainage of any entrapped moisture.